My site uses a rather unusual process for receiving and sending orders.
You like a print, you choose a size and format of the print (framed, canvas, paper), and go through a payment gateway. In this case it's Stripe, which was easy to set up and test. I've ordered several copies of prints just to be sure the process works.
(Yeah, the first one was shoved into my mailbox despite the "do not bend" message printed on the face. Shrug. The print still looked great.)
You're not on my journal to read complaints, but I felt compelled to write about my experience with Paypal and why I don't offer it as an option for checkout.
For some reason – upon testing the whole setup before sending my site into the wild, a payment to Paypal did go through – but it caused an error and was not sent to WHCC (which is the company that processes and sends the print). Hmm, that's weird. So while trying to figure it out…
Paypal decided to limit my "business account." Ok, fair enough. I needed to send further information about my business, send a copy of my ID, and send to them proof that I had processed and shipped the product that was paid for.
Huh. Well, OK. That won't be easy, but sure. I got in touch with the (amazing) support at Imagely and we got to work figuring it out.
Then about ten days later, Paypal sent this whopper of an email. With no further warning or due process … permabanned, as my students would say. I immediately tried to appeal to their professed marketing of helping small businesses, but any further words fell into a deep black hole at Paypal headquarters and were met with a standard form response.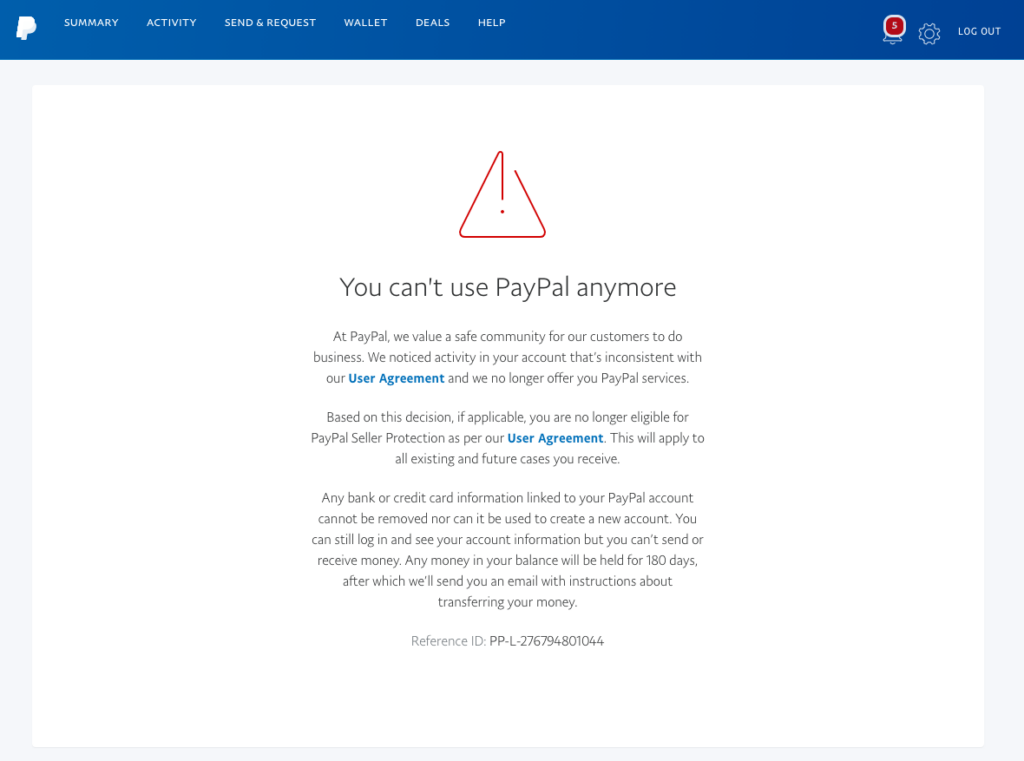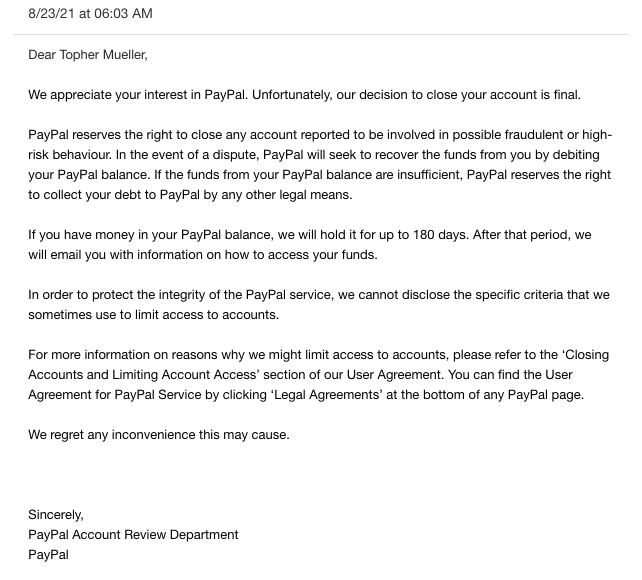 One could categorize this journal post as a petty message to Paypal in retribution for feeling slighted, knowing that the company is a behemoth with built-in algorithms that no business owner, big or small, could possibly appeal to. Who am I to shout out to the vast internet how my little artist's site has been treated?
Certainly the case. But that's also the point. Paypal professes to be a partner to small businesses. In my experience, and I say this to any artist or small business owner reading this, steer clear.